Did you know the first television commercial aired in 1941? The 10-second black and white advertisement was published by Bulova, an American timepiece company founded in 1875. Since this advertisement, the television medium has exploded with the addition of content-specific networks, the ability to record and rewind, and its use as a daily tool to keep up to date with the world. So, in 2022, we are going to take a look at Television and OTT, and determine which is the better investment in 2022.
First off, what is OTT? Over-the-top (OTT), is the video content that is served over all kinds of devices including the traditional closed TVs. When using OTT, users don't need to pay a TV cable company to watch content, as most of it is accessible through the internet. Additionally, connected TV (CTV) is often used in the same context as OTT. CTV, as an encompassing term, refers to TVs that are capable of connecting to the Internet to access content beyond what a cable or broadband provider offers.
What services stream through OTT?
There are now dozens of different platforms. Netflix is thought to have led the charge with its transition from DVDs in the mail to movies and TVs available anytime and anywhere (as long as the program is listened to play in your location)The list includes:
These services provide a home for thousands of hours of our favorite movies and TV shows. With increased competition, many are electing to create "original" content that is only available on its platform – creating a sense of scarcity. Gone are the days of Netflix holding all of your favorite movies and shows.
In 2022, 58.2% of US households held a subscription or had access to a streaming service, an increase of 2.3% over the previous year. This compares to just 44% of adults who subscribe to a cable TV service in May of 2021.
How do the costs of OTT & TV advertising compare?
Traditional broadcast and linear TV buys have a tendency to cost more in terms of monthly budget minimums. In addition, while OTT Advertising can cost $25 – $40 CPM's (cost per 1,000 impressions/tv spots), traditional TV advertising rates can range from $40 to $200 CPM Rates or more depending on the demand.
While the comparison can be very direct, of course, this does not always tell the who story. It's important to remember your target audience and buyer personas. Who are you serving, and what platforms or services have their attention?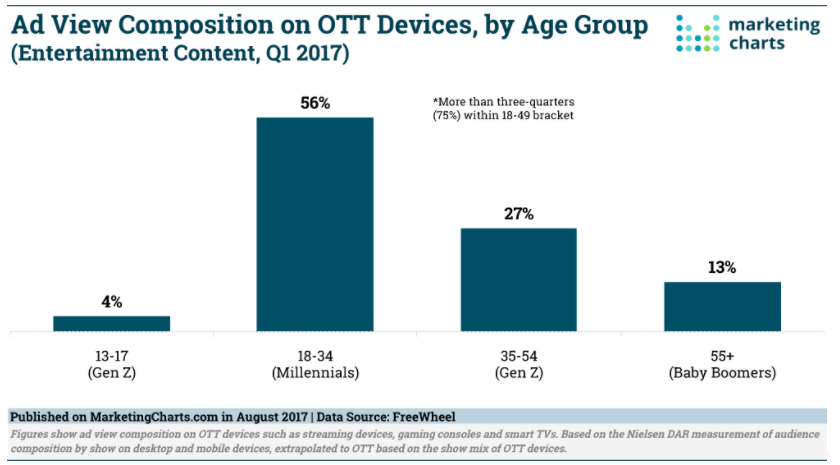 https://www.marketingcharts.com/television-79497
Freewheel, a Comcast company, in its analysis of Nielsen data, discovered that the median age of an OTT device viewer was 31, compared to 54 for traditional TV.
So, to wrap up, what's the better investment? OTT offers some significant advantages over traditional TV, boasting a larger potential reach, and a younger audience. But, always remember to keep your target audience and buyer personas in mind when evaluating marketing opportunities.